Teacher's Training and Yoga Retreats
Teacher's Training Certification
Pranamaya plans to offer an international yoga teachers training certification course and exclusive yoga retreats and workshops by certified Indian and International teaching faculty.
Yoga Alliance RYT 200 Teachers training with
Level One Yoga certification from AYUSH Minstry, Government of India.
Our 200 hours yoga teacher training courses provides very specially, professionally and extensive experince of learning.
Our Registered Yoga Teachers Training (RYT 200) not only provide you an internationally recognized certification but also laid down a strong foundation of yogic insights, knowledge using modern tool and tecniques.
Along with RYT 200, we also provide an opportunity to prepare students to appear in YCB ( Yoga certification Board, Ministry of AYUSH, Government of India) level 1 exams. The examination will take place in NEPAL at our center.
Our aim with this course is to plant potent seeds of yogic lifestyle and practices to individual self that grows with your dedicated practice and right and yogic attitude. Our teaching faculty is internationally experienced yoga teachers whose vast knowledge and experiences are deeply rooted in Yoga tradition yet contemporary in their wide vision for modern day yoga practice.
What do you learn during your RYT 200 ?
Learn to practice and teach a series of asana safely, effectively using proper techniques and tools.
Understand various asana on physical, pranic, and therapeutically level and experience each leveal with practice.
Learn the systematic practices of Pranayama, Meditation and their applications in your overall yoga teachings.
Understand principles of alignment and adjustment and how to apply them into your practice as well as in your teachings.
How to teach a wide range of studetns from beignners to advacne through various modifications and props and using modern tools and techniques.
Understand roots of yoga philosophy and how to apply in your yoga practice.
Improve your personal practices with personal guidance from the teachers.
Understanding your strength and limitation and how to apply your strengths in best of your capacity.
Who can do RYT 200?
Yoga brings the good heath, happiness and peace of mind in your life. Anybody can practice yoga without any discrimination. Each individual has the capacity to bring out the best strengths which are sometime not used. Each individual have potential to be yoga teacher in future. This 200 hours Yoga teacher training course is suitable for any individual who is physically fit.
Also it is suitable for people :
Who are looking to refine and deepinng their own practice?
A beginner student who wish to take the practice into next level.
Want to live healthy and happy life with the wisdom of yoga and its related practices.
Wants to live and teach yoga in near future.
Many people these days practicing yoga to stay fit and healthy but our practicing often get distracted by the modern day lifestyle and its not regualr or systematic. Yoga required proper training and right attitude . Yoga teacher training provide you a systematic learning of yoga and to enhance your life skills and gives you a new perspective towards yoga and lifestyle.
Yoga teacher training is not for certification ONLY or to provide you authorisation or license to teach yoga. It is rather provide you and teach you to use various tools and techniques to deal with life challenges and stress management of modern day lifestyle.
What is YCB level one certification and how it helps you in your yoga training ?
Yoga Certification Board, established by Ministry of AYUSH, Government of India, is the only Board which has been set up by any Government for certification in the field of Yoga. The YCB certifies Yoga professionals under various levels and category so that the Yoga Professionals can select the level and category as per their skills and competences. he certification helps in promoting Yoga as career skill which till date is an unorganized career option. The certified Yoga Professionals are exposed to better job opportunities across the globe.
For more info on yoga certification please visit http://yogacertificationboard.nic.in/certification-and-accreditation/
Dates : May 4 -28, 2020 ( 7:00 AM -6:00 PM, Monday –Saturday )
Price : 49000 Nepali Rupees ( early bird 45000 Nepali Rupees)
For others : USD 1245 ( early bird 10500 USD)
For more information please write to : [email protected]
Or visit : www.pranamaya-yoga.com
+91-9837066998 ( WhatsApp messages) only.
Yoga Retreats
Reconnect with your innerself and join our exclusive Yoga Meditation retreats with our international teaching faculty.
If you are thinking about YOGA rereat OR would want to intensify your practice then come and completely immerse yourself into yogic practices and expore the beautiful Himalayas during your stay with us.
Our yoga retreats are known for its variety of offerings, from Yoga Meditation to Silence practices. We are committed to make your retreat a special and a most memorable one.
For those who wants to intensify and strengthen their knowledge and practice of yoga this would be the right choice.
Neydo Tashi Choeling Monastery

Tucked away in the Himalayas of Nepal, amidst the most scenic area, there lies a Buddhist Monastery Guest-house in the most peaceful location alongside Neydo Tashi Choeling Monastery, just 22km or less than an hour's drive from the heart of hectic Kathmandu. It is located in the southwest corner of the Kathmandu Valley close to Pharping.
The Neydo Monastery is purposely situated close to the Asura Cave where Padmasambhava or Guru Rinpoche, as he is known affectionately, meditated and achieved the highest realization. "There is energy which really helps our meditation practice," says Dechen, the daughter of the monastery's founder, Karma Chagmé Rinpoche.
Almost 200 monks live and study here and if you wish you may eat alongside them, participate in their practice, and gain insight of their monastic life.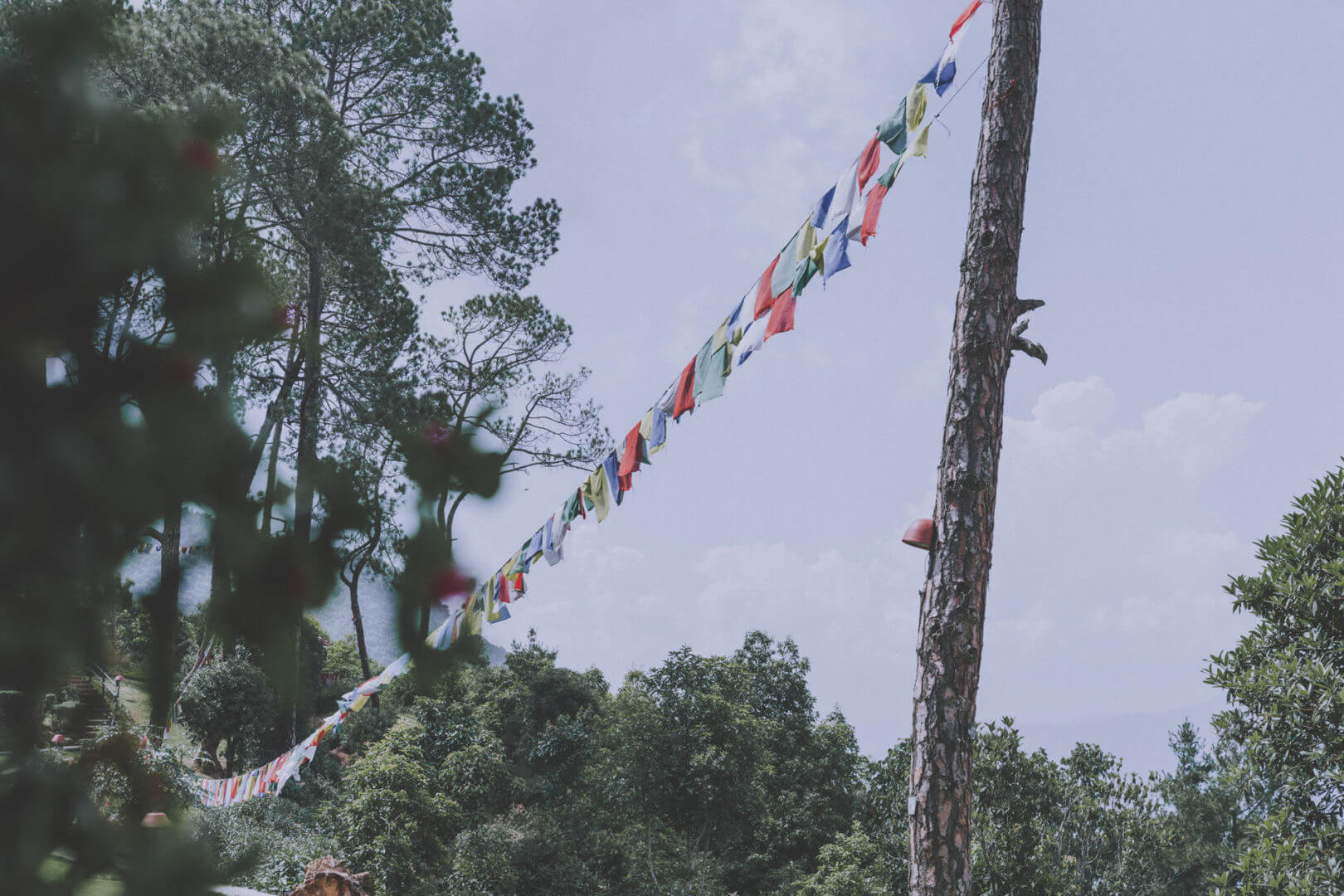 Sited on pine-forested ridge and seemingly far removed from the hustle and bustle of the city, experience the peace and serenity of nature. Established in 1993, Haatiban is the second oldest resort in the Kathmandu Valley, and is just 22 kilometers away, the closest mountain resort from Kathmandu Valley. The resort offers the best views of the valley below and the snow-capped Himalayan Mountains spanning from Langtang till Gauri Shankar.
Situated 8 km to the east of downtown Kathmandu, Boudhanath, is one of the most imposing landmarks in Kathmandu, visible as soon as you land at the Tribhuvan International Airport. It is the largest stupa in the Kathmandu Valley.
The 36-meter-high stupa of Boudhanath is one of the largest stupas in South Asia. With countless monasteries surrounding it, Boudhanath is the center of Tibetan Buddhism in Nepal.